AND NOW... A DELICIOUS AND ORIGINAL BREAK?
RESTAURANT AREA: THE FOREST FOOD TRUCK
Need a break after so much activity? Or perhaps you'd like to take a break in the Barcelona Forum area?
Whatever the case, at Barcelona Bosc Urbà we have a food truck where we prepare an original and select assortment of food for you to eat inside the adventure park.
Have a meal with dishes designed for children and adults.Try our hamburgers, our crepes or our exclusive tapas or simply have a coffee, a soft drink or a beer while listening to music.
We also have an exclusive picnic area to celebrate your birthday party.
Enjoy a well-deserved moment of relaxation.
Relax time!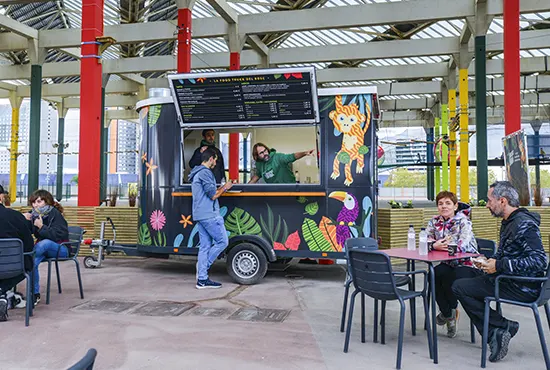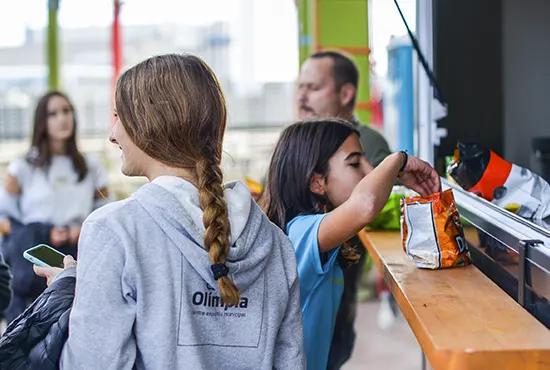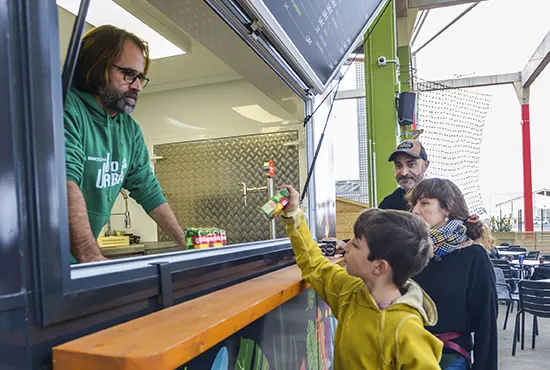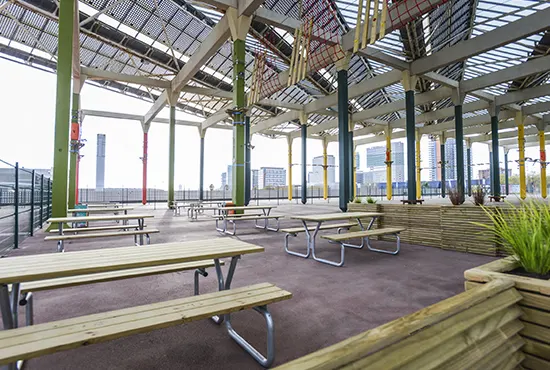 Mamas & "Papas"
Special "patatas bravas" (fried diced potatoes) with our mayonnaise sauce
High-attitude Fingers
Chicken strips with barbecue sauce
Wild nachos or soft nachos
With cheddar sauce and guacamole, you choose the degree of spiciness
Hummus for dipping
The choice for the healthiest adventurers
Cheese Burger
Frankfurt
Nutella Crepe
MENUS
Adventure menu: the classic for the whole family
Classic frankfurter with mustard and ketchup + potato chips + drink
or
Cheeseburger with cheese, lettuce, tomato, crispy onion and gherkins + potato chips + drink
Vegan adventure menu
Vegan frankfurter or hamburger, with rocket and special sauce + vegetable chips + drink
Potato chips
Doritos
Olives
Other
Soft drink
Juice
Cacaolat
Aquarius
Beers
Estrella Damm
Special Beer
Coffee and teas
Coffee
Small white coffee
Milk coffee
Tea

Other areas that may interest you
Trampolines over 5 metres from the ground. Keep jumping!
For over 5-year-olds (under 7-year-olds must be accompanied by an adult).
Games of skill to enjoy with the whole family!
For over 8-year-olds
over 1,35 metres tall.
Enjoy the most exciting zip lines in Barcelona.
For over 11-year-olds
over 1,45 metres tall.